Waste Water Treatment Plant Protection/Coatings
Rhino Linings® coatings...
YOUR containment solution

Our coatings offer superior protection ideal for wastewater treatment facilities. Rhino Linings coatings are your solution against corrosion, spills and leaks. Use the #1 brand chosen in the industry...Rhino Linings.
Rhino Linings products can be applied to:
Concrete

Masonry

Steel

Geotextile

Earthen Substrates
Typical Containment Applications:
Concrete Structures

Steel Pipelines

Cure in Place Pipe Systems

Above Ground and Buried Steel Tanks

Blast Containment and Mitigation

Vehicle Mounted Tanks

Geotextiles for Secondary Containment

Pools and Fountains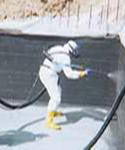 Features and Benefits:
Superior chemical and abrasion resistance

Excellent bonding

Highly resistant to cratering or blush

Dries to a high gloss

Low odor

100% solids, no solvents

Cures in the presence of moisture and humidity with excellent mechanical properties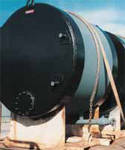 Let's face it, your equipment and facilities are vital capital investments. Keeping them in proper operating condition is critical to the continued success of your business. Excessive downtime or cost maintenance will be more than a mere inconvenience. It can affect the bottom line. Rhino polyurethane, polyurea and epoxy protective coatings are easy to apply, cure in minutes and provide long term resistance to corrosion, impact, chemicals and abrasion.


Applications
Recommended for vertical applications where increased resistance to acids, bases and solvents is desired.

Great coating in areas were high concentrations of chemicals are used.

Primary and secondary containment

Chemical tanks and disposal pits or tunnels